On Tuesday, March 21, only the freshmen and sophomores will report to the high school for Pre-ACT testing. A free breakfast will be provided from 7:15 - 7:45, and students must report to their testing rooms at 7:45.

We want to remind our students and families that Monday, March 13 will be a regular day of school. Originally, this day was planned as a teacher professional development day. However, we are now using it to make up for a recent snow day.

Good evening WUSD Families, This evenings snow totals continue to be heavy as predicted, WUSD is going to plan for a 2 hour AM delay tomorrow, March 10th. Morning bus pick up will be two hours later than normal. AM 4K will be cancelled. PM 4K will run as scheduled. Dr. Caroline Pate-Hefty Superintendent

The WHS Portfolio Committee is seeking community members to be a part of the listening audiences on Wednesday, May 24, 4:00 - 7:00 p.m. We are hoping for at least 15 Whitewater Community members to participate. Community members willing to attend the presentations can email
lmoll@wwusd.org
or call 262-472-8203 to sign up by Friday, April 28. Members of the Whitewater High School Class of 2023 are currently preparing for the annual Portfolio Event which will be held on Wednesday, May 24, 4:00-7:00 p.m. at the high school. This event for seniors allows them to showcase their academic achievements, celebrate their accomplishments, and share their postsecondary career and academic plans before graduation. To make the presentations more meaningful, students present to an audience of WHS staff members and members of the community along with family and friends who are invited to attend. Students present examples of their best work in core academic and elective areas, share 2 or more examples of their involvement in activities in and outside of school, or work experiences, and at least one service activity that had special significance. Students then describe their future career & educational plans and the pathway they have chosen to accomplish their career goals. Graduates end their presentation by summarizing the most important learning experiences they've had in high school and how they hope to use their knowledge and skills to become a productive and responsible member of society.

On Tuesday, March 7, ALL Juniors will join all 11th graders in Wisconsin in taking the ACT. Only Juniors will report to WHS on Tuesday. (Freshmen, Sophomores, and Seniors do not have school). Juniors are reminded to get plenty of rest & eat a good breakfast before taking the ACT. **FREE Breakfast will be served in the MPR beginning at 7:15 a.m. Testing begins promptly at 8:00 a.m. Students arriving late will not be permitted to enter the testing room and will need to report for the Make-Up Test Date: Tuesday, March 21 @WHS.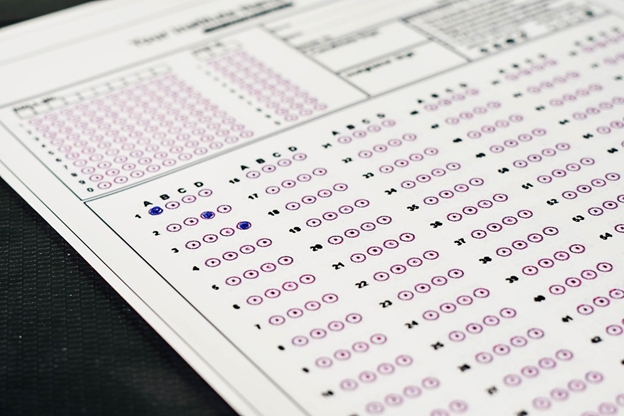 This Friday, March 3, will be a WHITE OUT dress day to honor Ricky Lopez-Navejas. Basketball team members, please wear your #playforricky and #24 t-shirts to school and the services, if you plan to attend. Students, whether you plan to attend the services for Ricky or not, the family would really appreciate your support in participating in the dress up day. Students planning to attend the visitation or services must be excused by a parent/guardian and are not required to return to school after the services. #TheWhippetWay #1Family

CHANGE TO ACADEMIC CALENDAR: The WUSD School Board approved modifying the current academic calendar to make Monday, March 13, a regular day of school for students.  The day was originally planned as a teacher professional development day, but will now be used to make up for last week's snow day. This will prevent us from needing to add another day to the end of the school year in June. We appreciate the understanding and flexibility of our families as we make this change.

WHS Players' Opening Night Rescheduled: Due to today's school closure, tonight's (Thursday's) performance of WHS Players' "A Murder is Announced" has been rescheduled to Saturday, February 25 at 2pm. All ticket holders for tonight's show should contact the box office at 262-472-8178 to exchange their tickets. Tickets for the other performances are still available. We hope you can come out to support these talented performers.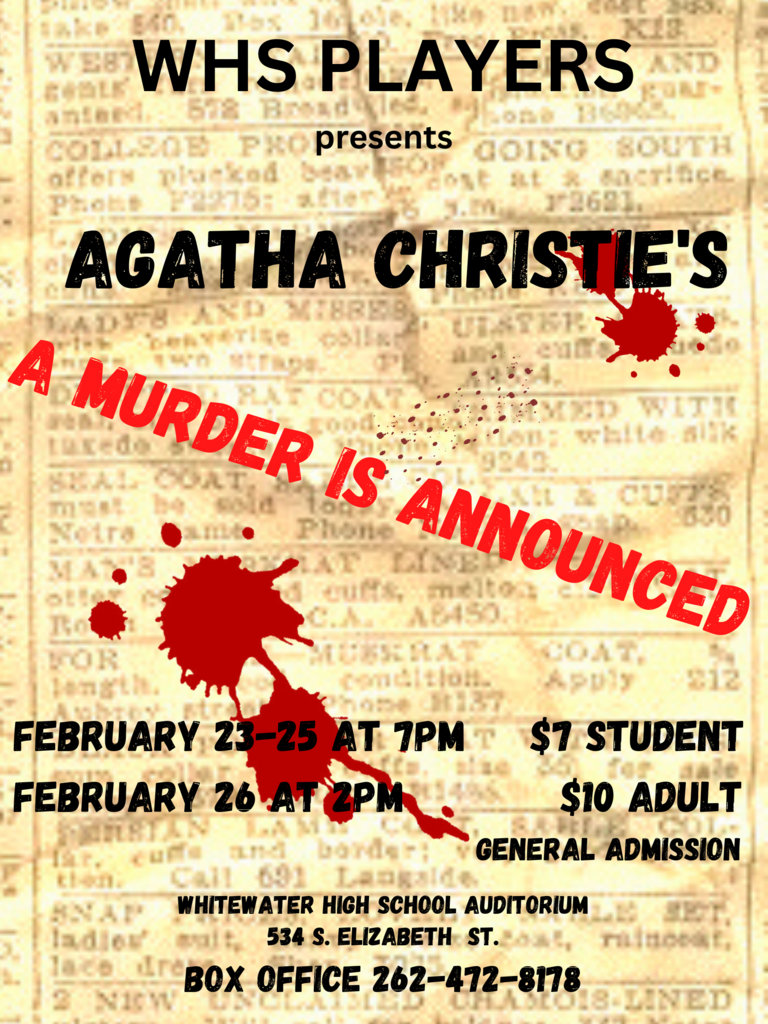 REMINDER: No School tomorrow, Friday, February 24, for teacher professional development. We'll see our students again on Monday!

Due to the current road conditions Whitewater Unified Schools will be closed for today, Thursday, February 23, 2023. The road crews have done great work in the city, however, this morning many county roads were still very slick for buses. We will work to reschedule parent/teacher conferences and update families with this plan soon. Best, Dr. Caroline Pate-Hefty

REMINDER: Elementary & Middle School Parent/Teacher Conferences are tomorrow, Thursday, February 23 from 1:00 to 7:30pm! Dismissal Times: ➡️Elementary @12:00pm (no 4K) ➡️Middle School @12:30pm Lunch will be served prior to dismissal. High school students will have a full day of school on Thursday.

Whitewater Unified School District will be closed on Wednesday, February 22, 2023 due to an Ice Storm Warning that goes into effect early Wednesday morning. The storm is predicted to include significant icing with accumulations of a quarter to one half of an inch and winds gusting as high as 40 mph, throughout the day Wednesday. All after-school activities for Wednesday are also canceled. Dr. Caroline Pate-Hefty Superintendent

Dear WUSD Families and Greater WUSD Community, This is a day of sadness and grieving over the loss of one of our own, Ricardo (Ricky) Lopez-Navejas Jr., a sophomore at Whitewater High School (WHS). Ricky was a member of the WHS basketball program. The Lopez-Navejas family has requested that tonight's home basketball game (Senior night vs. Evansville) be played in honor of Ricky. Therefore, we will be holding a moment of silence at the beginning of each of the games to honor Ricky. We welcome members of the school community to come and show support to the family. Additionally, we will sponsor a collection with the proceeds going to the Lopez-Navejas family. Please help us to keep the family and our school community in your thoughts. Ricky will forever be Whippet! #TheWhippetWay #1Family

Due to the school cancellation on Thursday, the location of the Royal Ball on Friday evening has been moved to the Auxiliary Gym. Please enter the school using door 16. The dance is from 6:00 - 8:00 on Friday.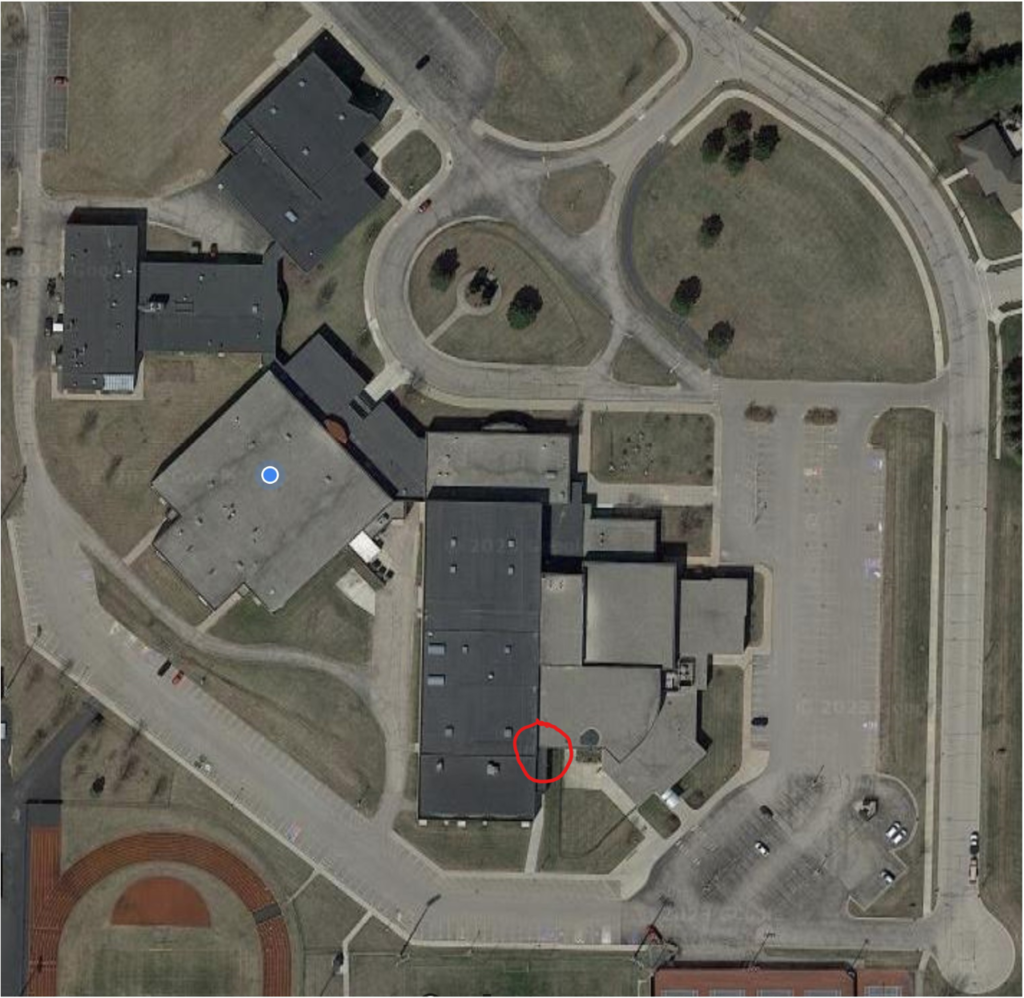 Whitewater Unified School District will be closed on Thursday, February 16, 2023 due to predictions of snow and strong winds that will make travel for our students and staff dangerous, throughout the day Thursday. All after-school activities for Thursday are also canceled.

Join Whitewater High School's FIRST Robotics Competition Team Ferradermis and FIRST Lego League students and mentors representing the teams from Washington, Lincoln, Lakeview, and Whitewater Middle School on Saturday, February 11 for an Open House at Whitewater High School. Stop in anytime between 10:00 am and 2:00 pm to visit with students and see this year's projects and robots. Visitors should enter the school through Door #38 at the high school, which is between the back of the auditorium and the overhead auto shop doors. Parking is available in the lot next to the JV baseball field, but anyone with accessibility needs may drive right up to the door. The Open House will take place during a regular Saturday workday for the high school team. Ferradermis members will take visitors on a guided tour of their workspace and the school shop, and visitors will have a chance to speak with representatives of the mechanical, electrical, programming, competition logistics, CAD, and administrative subteams as well as see the 2022 and currently under construction 2023 robot. Representatives of the FLL teams will be demonstrating their robots and sharing their innovation projects which relate to this year's energy-themed game. In addition, Ferradermis will have various themed gift baskets available for visitors to bid on as a fundraiser for the team. The team will also have Kwik Trip gift cards for sale as part of an ongoing fundraiser. Gift cards can be purchased at face value, and the team will be able to keep a portion of the money collected.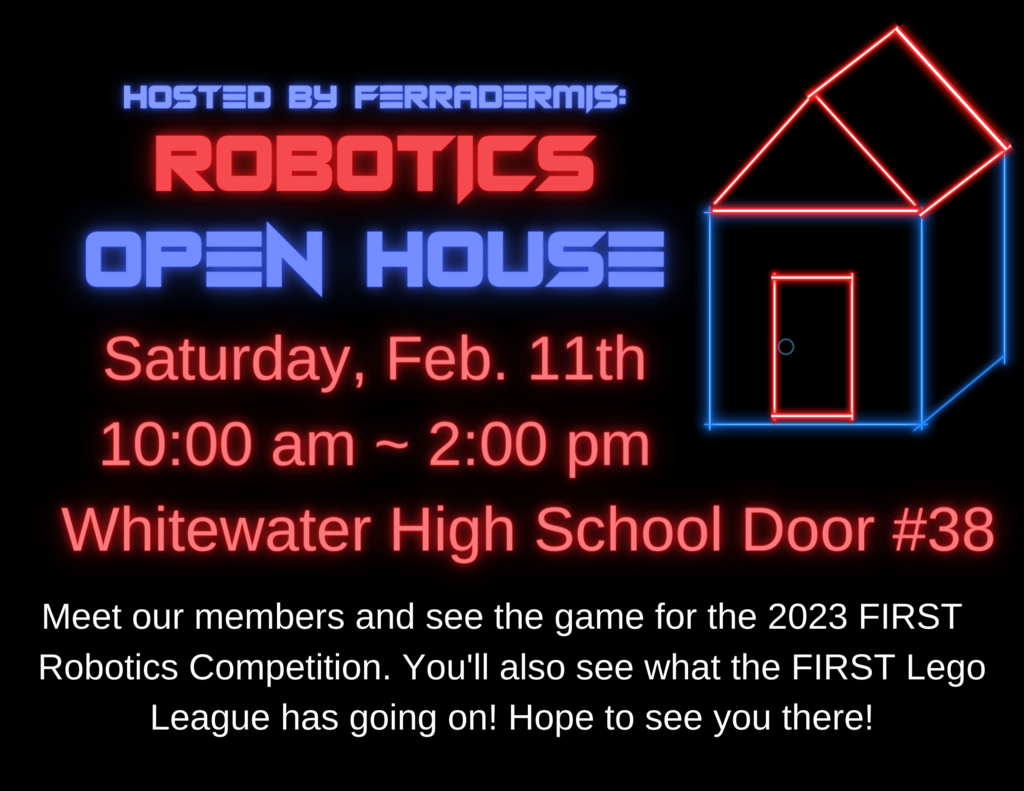 FBLA is hosting their annual Royal Ball (a dance for grades 4K through 5) on Friday February 17, 2023. The theme is a Winter Fairytale. The semi-formal dance will be held in the Whitewater High School Cafeteria (MPR) from 6:00 until 8:00, and students must be accompanied by an adult. Cost is $10 per student, and registration forms are due by February 10. The event will include music, dancing, cookies, punch, a photo booth, and craft stations.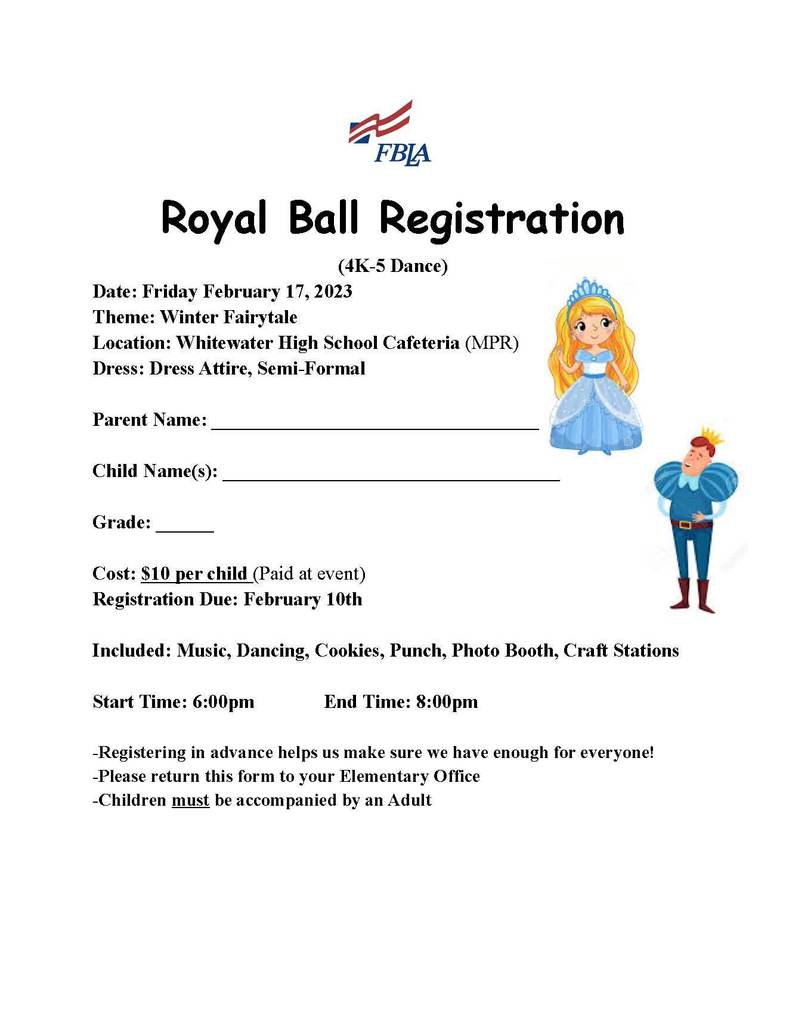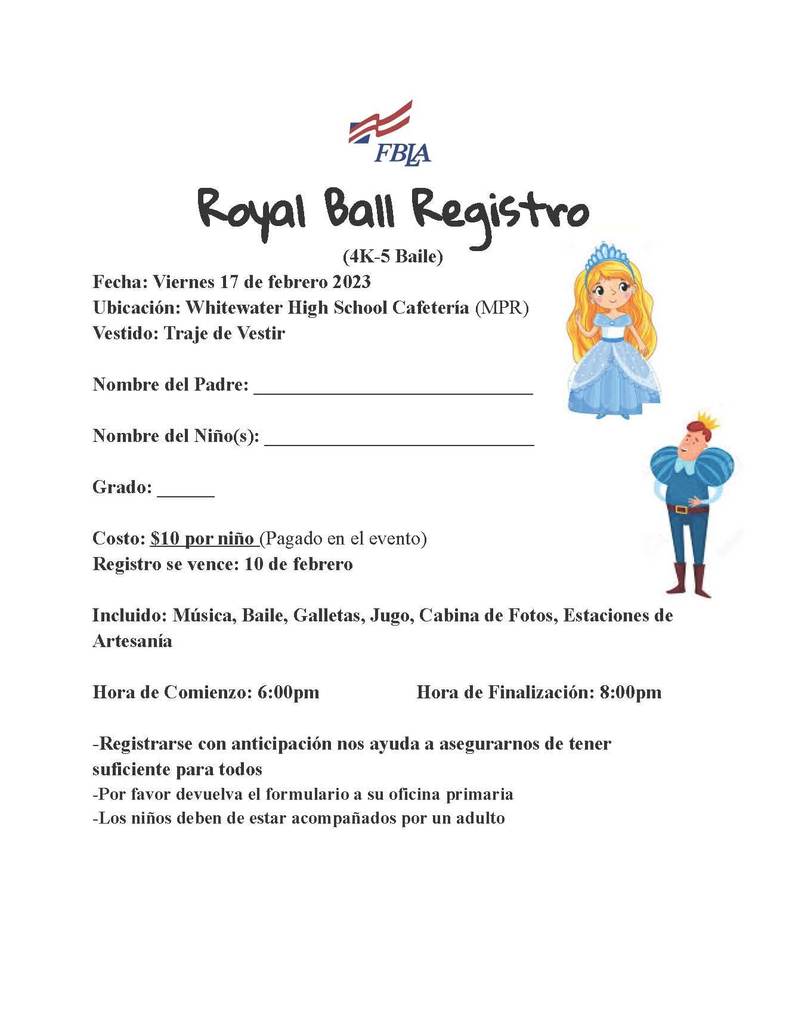 Due to impending winter weather, Saturday's ACT Master Class will be postponed to a future date.

Beginning in the 2023-2024 school year, Whitewater High School students will be able to get a jump start on earning college credits thanks to a new series of transcripted courses available through Gateway Technical College. The partnership will allow students to take college-level classes on early childhood education, introduction to business, software academy, advanced automotive care, and enterprise manufacturing. The WUSD School Board approved the courses at its December 19 meeting. "We are thrilled to engage in this partnership with Gateway Technical College and give our students the opportunity to earn both high school and college credit without leaving Whitewater High School," said Dr. Caroline Pate-Hefty, Superintendent. "These programs will help students reduce the cost of their college education and give them the skills necessary to enter high-demand jobs shortly after graduation." Through the one-semester Foundations of Early Childhood, students explore key concepts in child guidance, discipline, lesson planning, and fostering creativity. They also hear from guest speakers and observe children in a daycare setting. Intro to Business introduces students to various business topics and other high school business course offerings, such as Accounting, Business Law, Entrepreneurship, Personal Finance, and Sales & Marketing. In Software Academy students will have the opportunity to earn the Microsoft Office Specialist (MOS) certification, which is globally recognized for demonstrating Microsoft Office skills and meeting the workplace demand for qualified employees. Also available is Health, Safety, and Nutrition, another early childhood-focused course that includes various training sessions that allow students to become state certified as assistant childcare teachers. Advanced Auto is a full-year course that familiarizes students with the various systems of motor vehicles and includes ASC certifications for students who want to pursue automotive-related careers. The one-semester Manufacturing Enterprise class enables students to research, design, build, market and sell products, with the ultimate goal of making a profit. This includes quoting jobs, ordering materials, building products, quality control, and marketing. The transcripted classes will be taught by certified high school teachers, with students earning high school and college credits concurrently. To learn more about the program, visit
https://www.gtc.edu/admissions/audience/high-school-students/earn-college-credit-high-school
.